Parents ask for case numbers after WWRSD completely remotely controls Covid-19 – Pascack Press & Northern Valley Press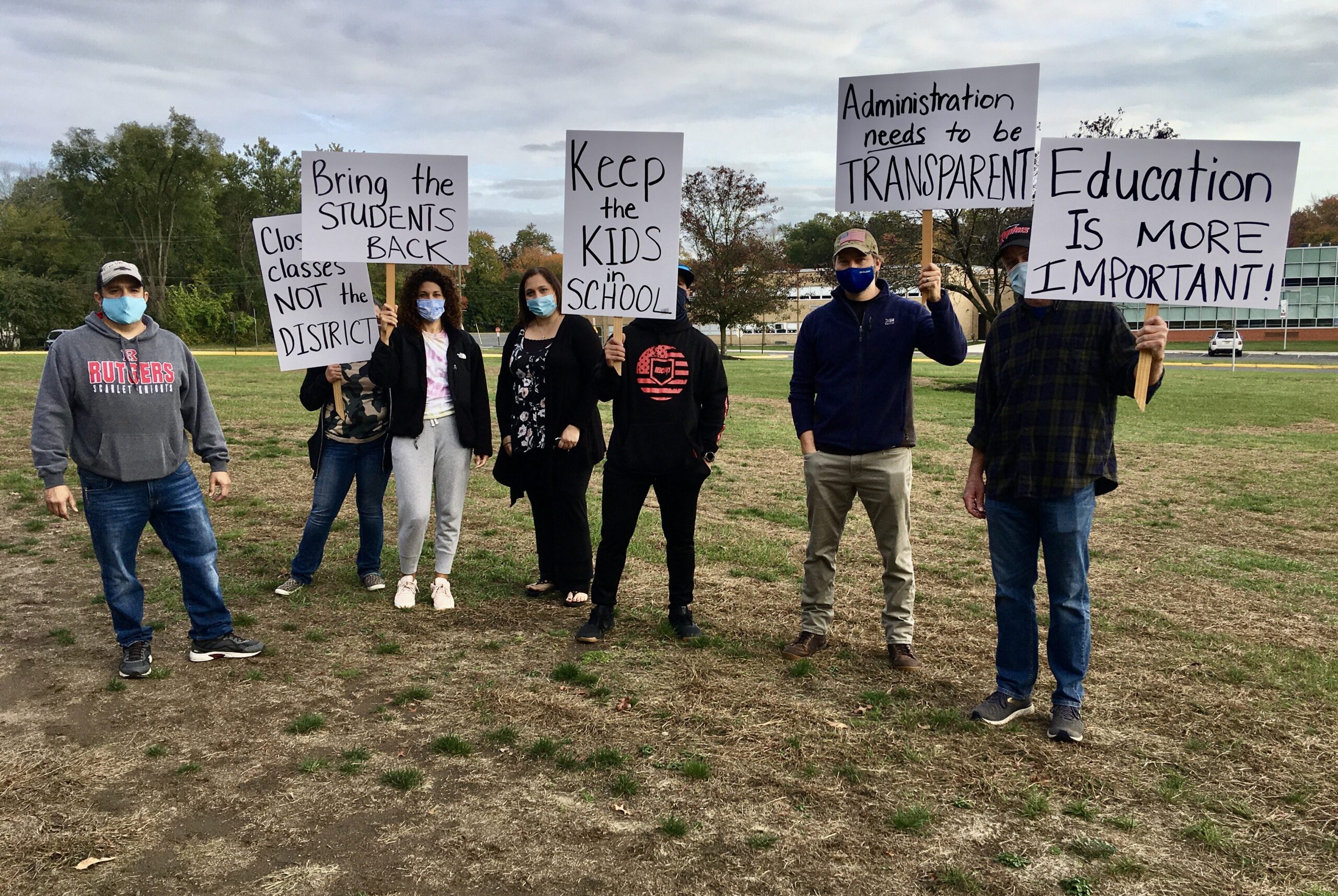 [ad_1]

TOWNSHIP OF WASHINGTON, NJ — A new post from the superintendent of the Westwood Regional School District coincides with a social media protest by parents on the high school campus after families were told Sunday that all school buildings in the district are closed for two weeks on new Covid-19 diagnoses.
The Westwood Regional School District opens on Monday, November 2. According to Superintendent of Schools Raymond A. Gonzalez, the schedule for returning to in-person learning is as follows:
Monday November 2 for group 1 in person.
Tuesday November 3 at full distance for election day.
Wednesday November 4 for group 2 in person.
Up to a dozen parents gathered on the high school grounds just off Ridgewood Road between 3 p.m. and 4 p.m. today, waving to many drivers honking their horns in support, to say the entire district is failing shouldn't close what appears to be a small number of positive cases – and say that distance learning isn't working for them.

"We are looking for the actual number of cases in the district. We're not looking for names, just numbers. If there is an increase in the number, that would justify the closure, "said Anthony Greco, who has three children in schools: one at regional college and two at Brookside Elementary in Westwood.
Jennifer Puccio, who has a student at Washington Elementary School, said: "I hope my 7 year old… goes back to school, everyone's kids go back to school, for a face to face learning. Children don't learn with the remote control, Zoom, none of that. It doesn't help. It is not about giving our children the education they deserve.
As part of raising awareness for all schools, Shelley LaForgia, principal of the newly renovated and expanded Westwood Regional Middle School, partially told families: "All Zoom links remain the same, unless teachers do. have informed the students otherwise. Our school-wide distance learning website is once again available for reference. The distribution of meals will continue as planned, but will be moved to the main entrance. Full distance tours and school photos will be rescheduled.
The administration seeks to clarify
At 2:32 p.m., Gonzalez spoke to the entire Westwood area school community with comments and a FAQ:
Let me start saying that I share everyone's frustration and concern at the challenges associated with this public health emergency and the impact it has had on all of our lives. We are keenly aware of the academic and socio-emotional struggles of our students during this time and remain committed to working with our families to support their well-being.
After my announcement yesterday, I received several requests for additional information regarding the decision to move to full distance learning at all of our schools. While I cannot provide the level of specificity I want in all cases, I can share the following answers to frequently asked questions.
Why was the decision communicated on a Sunday afternoon?
Northwest Bergen Regional Health Commission (RCSNB), our local health department, was investigating additional cases in the community over the weekend and reached out to me to set up a video conference at 2 p.m. Sunday to discuss their concerns and a plan of action. An hour later, the Board of Education was informed, and less than after that, the community was informed.
What are the data behind the decision? How many cases are there in the neighborhood? Why does the district not share the information?
As in the spring, the district is not allowed to share public health data. It is the responsibility of the Ministry of Health.
To view the latest statistics from NJDOH, you can visit their COVID-19 Dashboard.
The Department of Health is aware of more cases in the community than the school district knows about, which is certainly factored into their decision-making. Additionally, the fluidity of the numbers is based on the number of reported cases, active, suspected, confirmed, asymptomatic, etc., with new cases and lab results being revealed even on weekends.
Is my child at risk?
Anyone who needs to be quarantined will have received direct communication from the school and / or RCSNB. If you have not received this notification, please continue to monitor your child's health and contact your pediatrician if your child develops symptoms.
The transition to distance learning for 14 days was made specifically to reduce the potential for transmission in our schools. When not in school, everyone is reminded to follow CDC guidelines.
Who made this decision? Why did the school board not vote?
With respect to all public health decisions, this decision was made by the Superintendent in consultation with the NBRHC. Simply put, like public health experts, the Department of Health makes the recommendation and the Superintendent follows it.
The NWBRHC also consulted with the NJ Department of Education which endorsed the decision.
The decision is entirely in the domain of administration and not governance, which is why the Board of Education did not vote on the decision but was informed of it.
Why does this decision not follow the NJDOH K-12 Recommendations for Local Health Services?
According to the document, "The shutdown is a local decision that should be made by school administrators in consultation with local public health. While it is not possible to consider all of the scenarios that schools may face during the school year, the following scenarios can help inform the decision as to when schools should temporarily close.
Based on the recommendation of the NWBRHC, approved by the NJDOH, the school district would switch to distance learning for 14 days to reduce the potential for transmission in our school community.
While I truly apologize for the inconvenience this situation presents to many of you, I can assure you that the public health and safety of our students and staff remains at the forefront of our decision-making. While I may not have all of the detailed answers or expertise of our public health experts, I can confidently say that the NWBRHC has been a tremendous partner in supporting our efforts to keep our schools and community alive. healthy. They have worked tirelessly with our staff and families to answer questions and find contacts to keep everyone safe.
As always, if you notice that your child is struggling and in need of mental health or academic support, feel free to contact your teacher, counselor, or administrator for assistance. Be careful.
[ad_2]