ISI issues 40 million new shares to finance the acquisition of Abumados Dominguez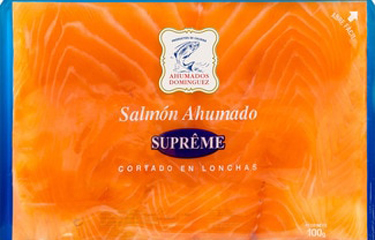 Iceland Seafood International will issue 40 million new shares of its stock to help fund its acquisition of Madrid, Spain-based salmon smoker Ahumados Dominguez.
ISI, based in Reykjavik, Iceland, announced last week that it will acquire an 85% stake in Ahumados Dominguez from the Mestanza family for 12.44 million euros ($ 14.6 million), the transaction being concluded on September 27, 2021.
The transaction will be funded by a combination of debt and equity, according to a September 20 press release. The issuance of new shares, priced at ISK 17.10 (USD 0.13, EUR 0.11) per share – equal to its highest price on Friday, September 17 – is conditional on the closing of the acquisition of 'Ahumados Dominguez. As a result of this move, ISI will have total share capital of approximately 2.7 billion shares.
"I am pleased that we are announcing the acquisition of Ahumados Dominguez. This is a very important part of our ambition to strengthen our position in the Spanish retail trade and, at the same time, to enter the fast growing salmon sector in Spain ", said the CEO of ISI, Bjarni Ármannsson. "Ahumados Dominguez is a great addition to the current strong salmon footprint we have in the Irish salmon industry. Each year, the group will produce high quality salmon products from more than 6,000 tonnes of raw materials, mainly for retail sale. We are confident that Ahumados Dominguez's experienced management team and its strong mainstream brand position will create an excellent platform for future growth and welcome this new addition to the group.
ISI first announced its intention to buy Ahumados Dominguez via a letter of intent signed in May 2021. Ahumados Dominguez CEO Pedro Mestanza will continue to lead the company after the acquisition and will remain a minority owner , with a 15 percent stake and an option to purchase an additional 5 percent stake in ISI over the next five years.
"This is an exciting step for Ahumados Dominguez to partner with Iceland Seafood," said Mestanza. "The group's international expertise and experience in sourcing and marketing seafood creates an opportunity to expand our range of high quality products while maintaining the highest standards of service to our customers. . "
Ahumados Dominguez enjoys a "strong brand and strong consumer recognition in Spanish retail," according to ISI, and its strong consumer campaigns and direct consumer presence through specialty stores have attracted ISI to the company, said rmannsson.
"The Ahumados Dominquez brand is one of the seven most dominant brands in the smoked salmon sector within the Spanish distribution. The acquisition will strengthen Iceland Seafood's proposition in the Spanish retail sector and create opportunities to use Ahumados Dominguez's strong platform to sell high quality cod products, "ISI said. "At the same time, Iceland Seafood will enter the fast growing retail salmon market in Spain. Using the opportunities that Humados Dominguez has as a stand-alone business and the new opportunities created with the acquisition, the aim is to significantly increase sales and profitability in the years to come.
In 2020, Ahumados Dominquez recorded a turnover of 19.3 million euros (22.6 million US dollars) and its profit before interest, taxes, depreciation and amortization (EBITDA) was 1, 7 million euros (2 million US dollars).
Photo courtesy of Hipercor