Is the buffer zone at 450 Pascack Road suitable for a conservation easement? – Pascack Press & Northern Valley Press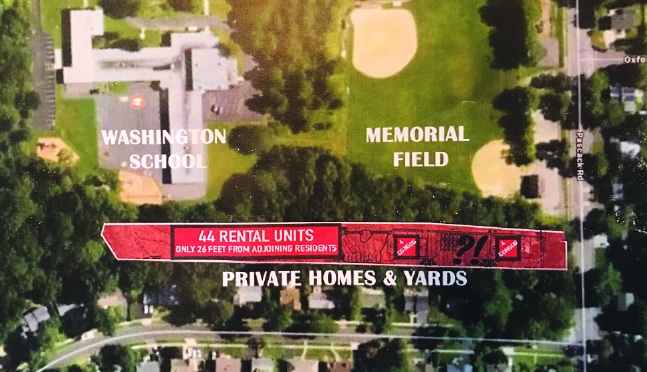 [ad_1]
TOWNSHIP OF WASHINGTON, NJ — Residents opposed to a detached multi-family senior citizen's residence and townhouse complex at 450 Pascack Road — recently withdrawn by the plaintiff — have asked city council to take action for a conservation easement to to prevent development there.
Most members of the Sept. 14 city council said they saw the need to "revisit" the possible acquisition of the 3.2-acre woodlot since the request had been withdrawn.
Several suggested working with township grant writer David Biunno to prioritize the needs of local open spaces in order to secure funds to purchase the site.

At the September 14 meeting, four residents called to ask for the preservation of the plot, recently proposed by a developer for a 48-unit senior living development comprising a 44-unit apartment complex and two apartment buildings. in row with four units.
The property includes a wooded buffer zone of mostly mature trees between the homes on Ridgewood Boulevard East and nearby Washington Elementary School and Memorial Field.
According to tax records, the property, owned by John and Nora Morris, is valued at $ 320,100 and subject to an annual property tax of $ 7,775.23. According to Zillow, it includes a 1920s farmhouse and barn and was recently valued at $ 489,043. It is currently listed as off market.
Following the September 14 public comments, Board Chair Stacey Feeney said she agreed "the acquisition should be explored" and "a better conversation [was] justified for this property. Most of the members seemed to agree with Feeney in general.
The next council meeting is October 5th.
Neighbors had claimed that substantial development on the property would increase traffic, creating safety concerns for schoolchildren, student-athletes and residents walking in the area.
Developer Nick Tsapatsaris & Associates submitted an application over the summer after initial outreach to some owners on nearby Ridgewood East Boulevard. He withdrew the request before it could be set for a public hearing by the zoning board.
Tsapatsaris is President of Lakos Construction Inc., the builder of the complex, and is a licensed engineer and architect.
He said his business had "not solidified our next steps and had nothing to share on how we plan to develop the property except to confirm that it is private and buildable property." .
The plot is in Zone AA which allows for single family homes at half an acre per lot. Multi-family independent living for the elderly was also allowed in this area on three similar properties, Tsapatsaris told Pascack Press on September 15.
Two knowledgeable local sources told Pascack Press that the developer's offer to buy the property was conditional on local approval of the proposed development.
At the September 14 council meeting, resident Diane Ferrara said the request had been withdrawn and urged the council to pass specific resolutions to act "proactively" to prevent the development.
She said the withdrawal presented a window of opportunity and suggested that a resolution be passed noting that, given the noise pollution and proximity to the busy Memorial Field, the property is not conducive to living independent for the elderly.
She also suggested a measure to ask the town planning council to review the property and "protect it from overdevelopment" based on the goals outlined in the master plan, including the preservation of open spaces, aesthetics, and preservation of features. trees.
She suggested zoning it for a conservation easement to preserve the land as community open space.
"We beg …"
"In fact, we are begging our city to take a look at this and see what they can do," Ferrara said. She noted that the independent adult residences were confined to block 2506 in the city and were built there.
She said removing around 200 trees for the previously proposed development on the site would cause damage.
Another resident said development there would lead to problems with rainwater runoff and a likely increase in the mosquito population.
Resident Brian Sinclair called the requester's withdrawal a "time to catch your breath and look at things" and wondered what would happen if the developer made a second request. He said now "is a good time for all of us to think about how we cannot allow this".
Vice-Chairman Arthur Cumming said he was "very concerned" about 450 Pascack Road and called for "more discussions on these things".
City Councilor Steven Cascio noted that the township had previously sought to acquire the property but that "the asking price was outrageous." He said his acquisition should be discussed and the property could be a hiking trail with parking.
Councilor Michael DeSena suggested that council "immediately discuss" the acquisition of 450 Pascack Road to use as a passive park and ask his grants consultant to seek state funding from Green Acres to do so, with minimum taxpayer funds required.
City Councilor Desiree Morgan said she "echoed" each member's thoughts on "reviewing" the possible acquisition of 450 Pascack Road for open space.
Mayor Peter Calamari said council needs to prioritize local projects for grant funding with its grant writer.
Neighbors on Ridgewood Boulevard East told Pascack Press in July that the proposed development at the time would be within 25 feet of a half-dozen or more residential yards on the nearby street.
[ad_2]